HOW TO DISCOVER MORE ABOUT NAMES IN TROVE
For a small town like Urunga, NSW, losing three long time residents within a few days, all unrelated, was something that affected many in the town. I was too small to have known these particular people, but I did know the family names, mostly the AINSWORTH and the VAUGHAN names...
That got me searching to see if I could find out more about at least one of them. Following the trail through TROVE and other resources, I managed to discover quite a bit more about Cecil Ainsworth.
CECIL GEORGE AINSWORTH.. the article tells us that he was a returned soldier of WW1. That is an easy place to start...
As he was in WW1, all the service records are digitised and free to read/download. Firstly, he didn't show up as Cecil George, so just looked for Cecil... This is the first page of his 12 page record...
It gives us quite a bit of information.
He has just given his name as Cecil Ainsworth. His address .. just Urunga, NSW. It was a small town, more a village, so that is all that would be needed to find his family.
He is a British born subject, aged 19 years and 8 months, occupation looks to be 'horse driver'. He had never been an apprentice, nor had he been married. His next of kin was Mrs. Lousia Ainsworth, his mother, of Bellinger River, NSW. We can see that he joined up on 19 September, 1916. Looking back at the top of the page, he was in Unit 23 of the 15th Battalion. His service number was 6932.
Without uploading all pages, the next page tells us that he enlisted in Lismore. The next, see below, gives his physical description.
Very precisely, his height is stated as 5'9 1/8 inches. I don't recall seeing anything quite that precise before. Weight 11stone, 10lbs, dark complexion, brown eyes and brown hair and of Roman Catholic (RC) religion. He did have a distinctive mark.. a scar on back right hand.
( If you wish to read the whole lot, you can go to record search and look for the following.. Barcode 3023281 Ainsworth C Series number B2455 or just Ainsworth Cecil WWI )
He enlisted twice, rejected the first time...though I have yet to find the reason.
On the second and successful time, according to the records, Cecil was sent to England, but never saw the firing line, despite his 14 weeks training. In 1923, he sent this letter to the Army...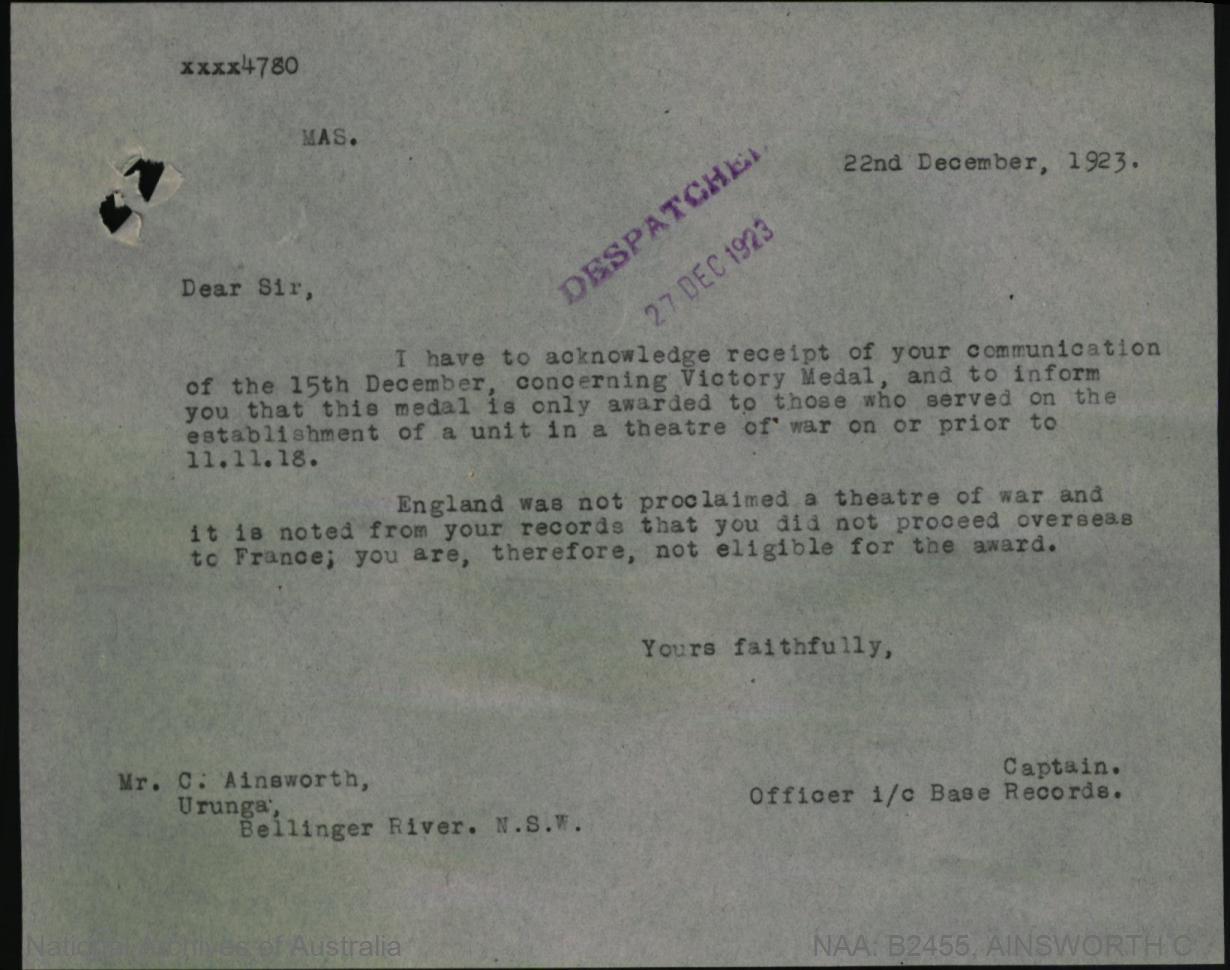 but on return to page 4, it seems that that decision was overturned...
Cecil was born to George and Louisa J Ainsworth in the Macksville District in 1896. He married Eva Miles in 1921 in the Bellingen District.
TROVE: Nambucca and Bellinger News Fri Jan 21, 1921
A few days before Cecil enlisted for the second time, he attended the Bazaar at Urunga... and won a prize.. Wonder if his mother was the recipient of this treasure?
This brings us back to the beginning.. Cecil George Ainsworth, former soldier, admired footballer, community minded resident, husband and father, passed away on May 5, 1950 aged just 54 years. He rests in Urunga Cemetery. His wife, Eva, died in 1962.
Image courtesy of Reg McDonnell, creator of austcemindex
Information sourced from TROVE, naa.recordsearch.gov.au, NSW BDM, austcemindex